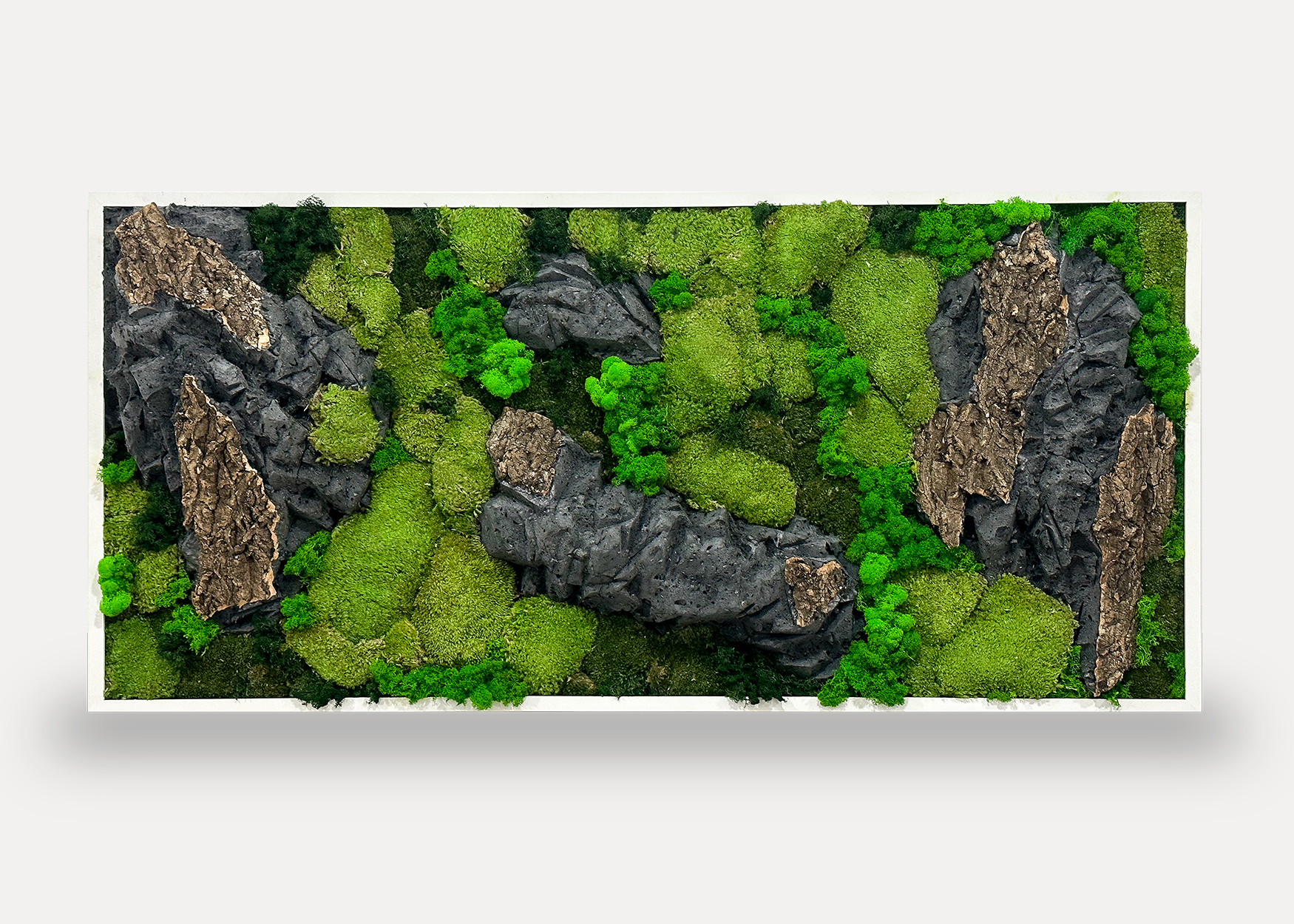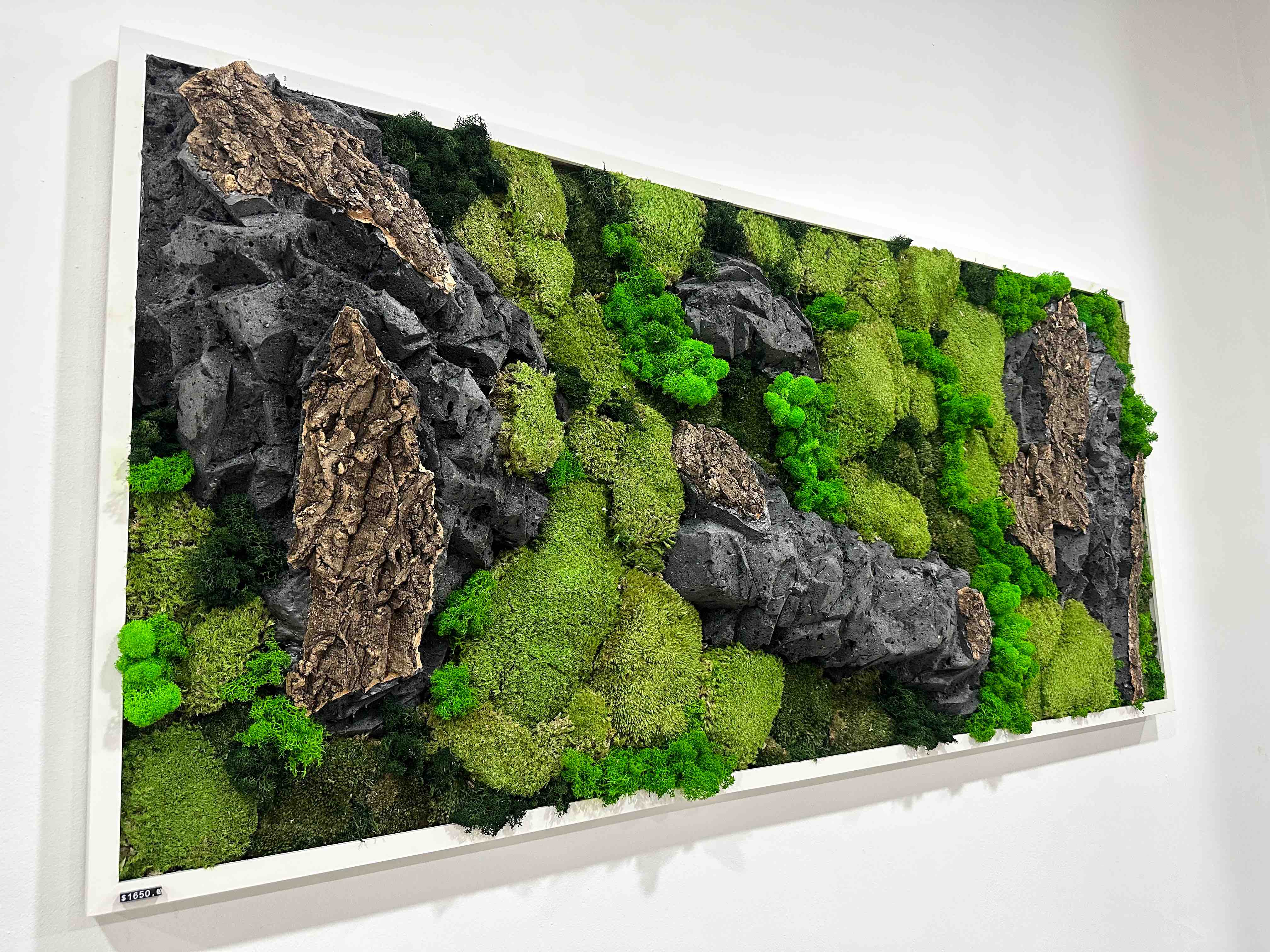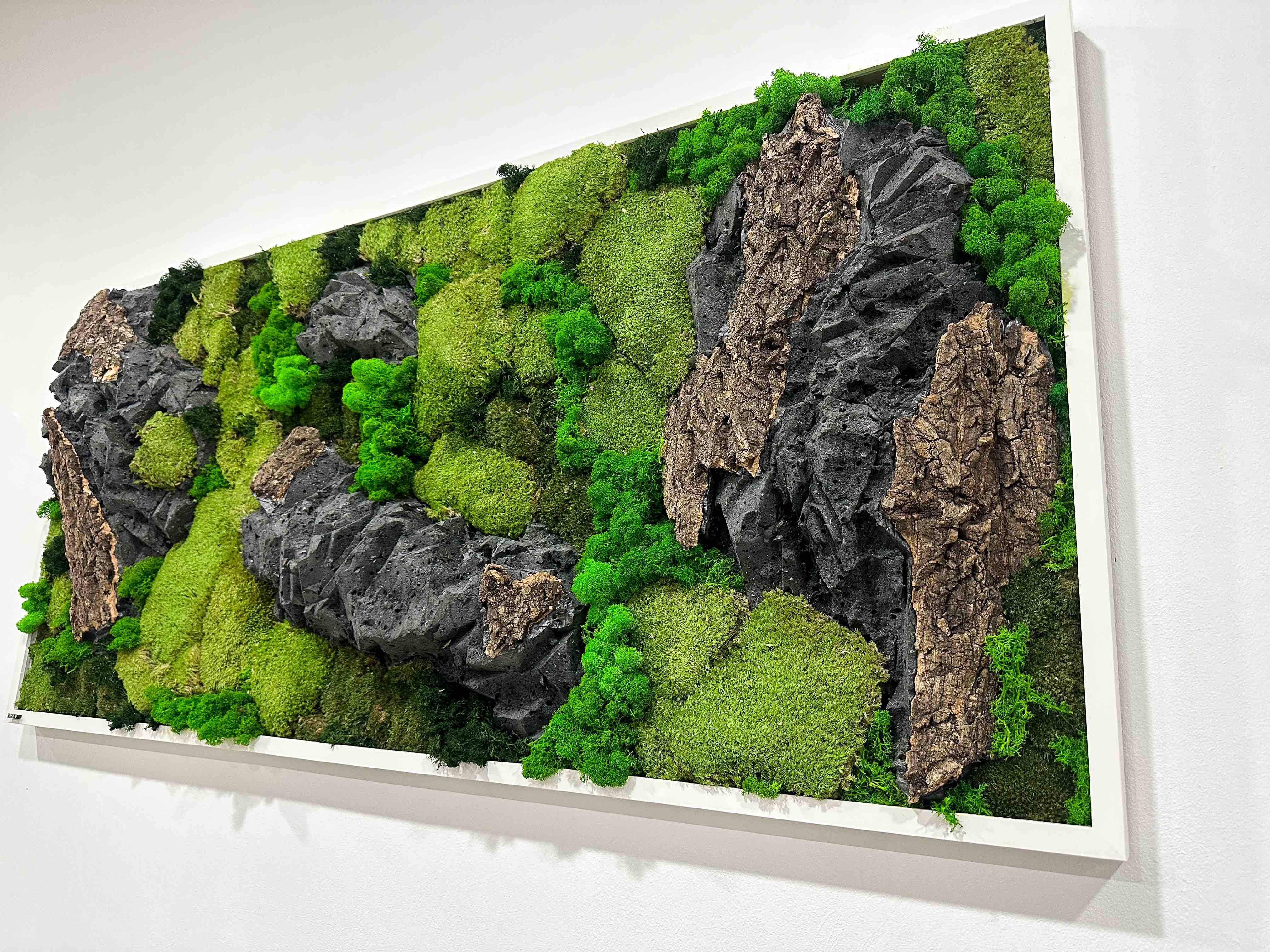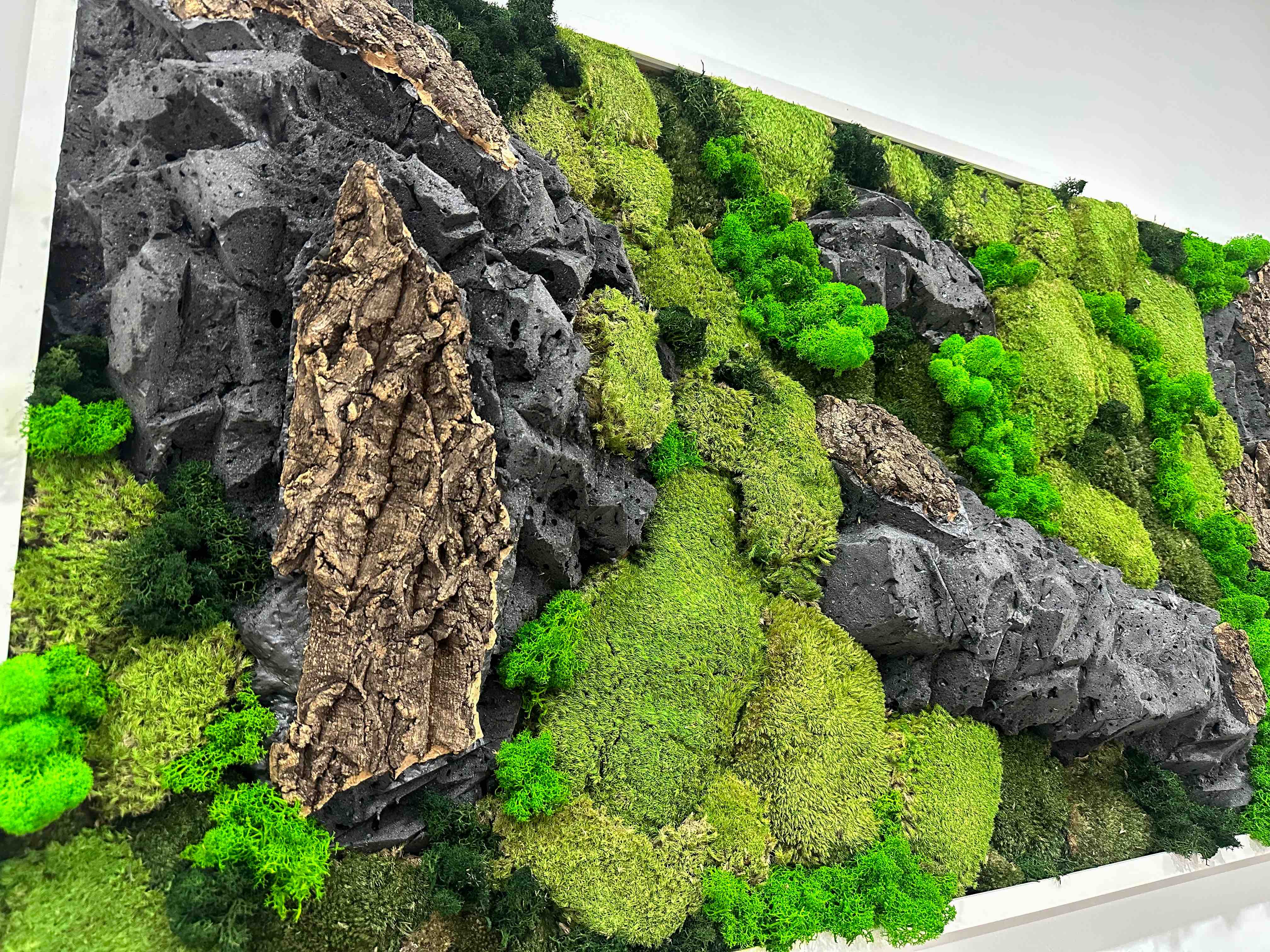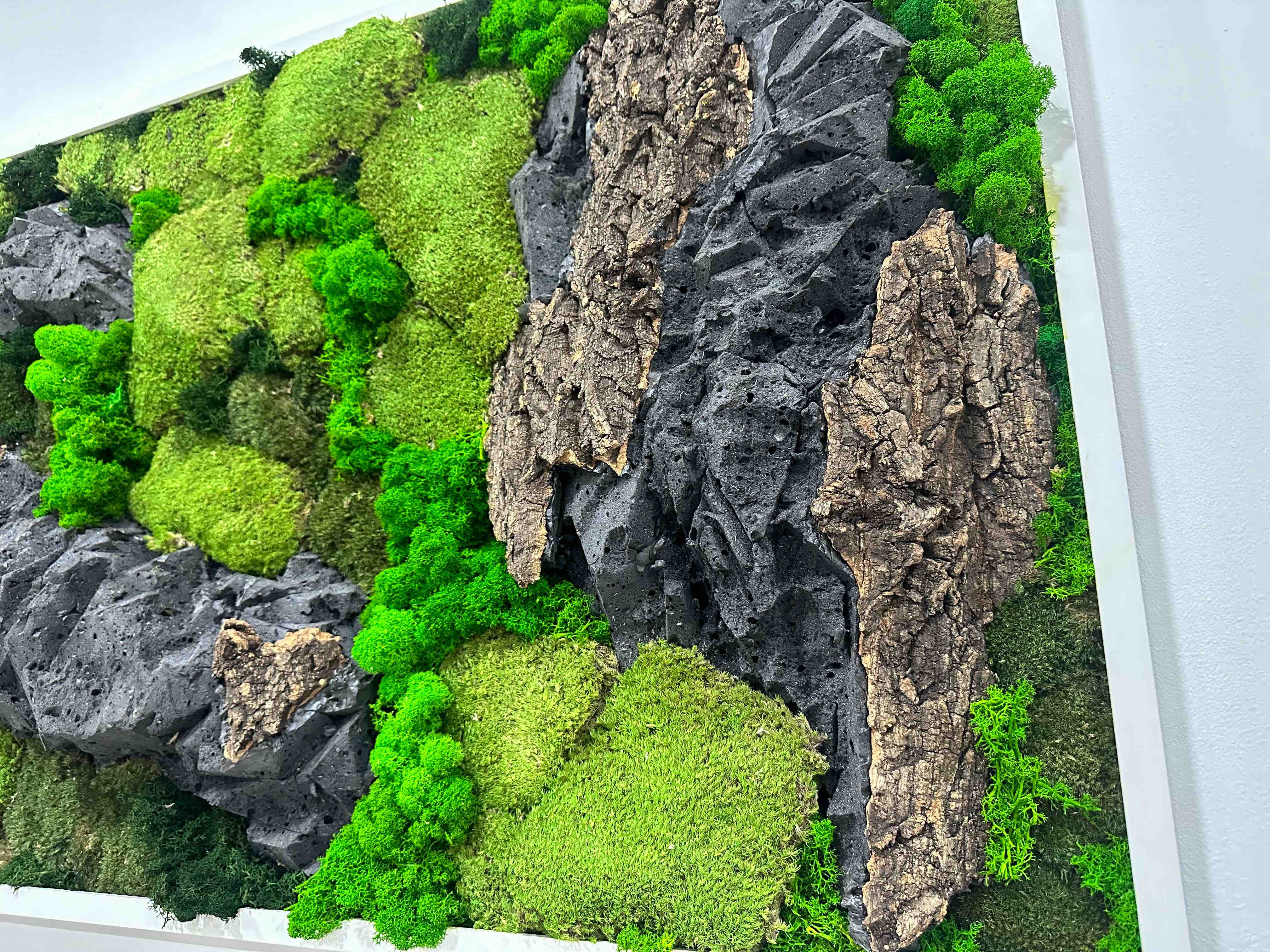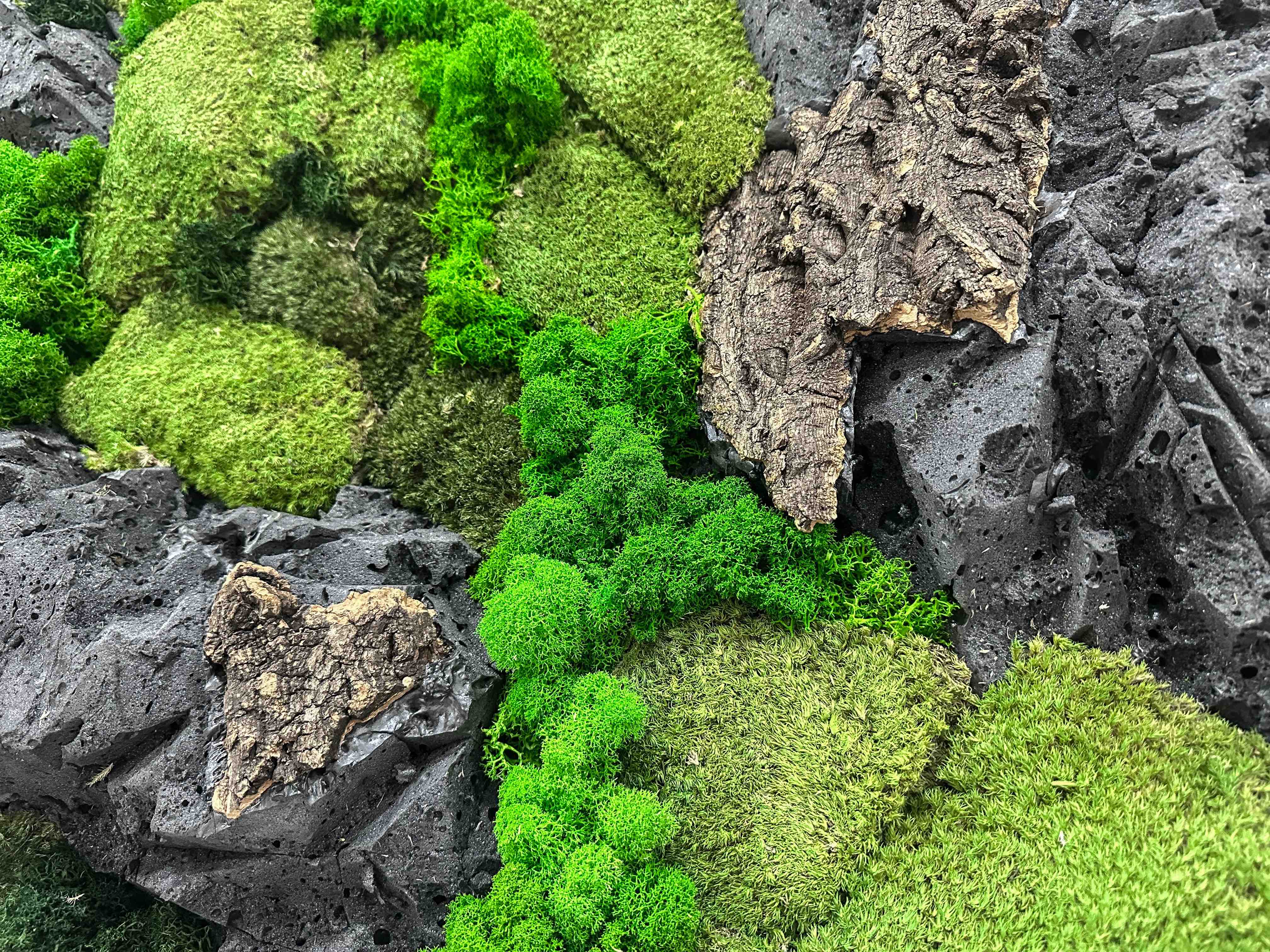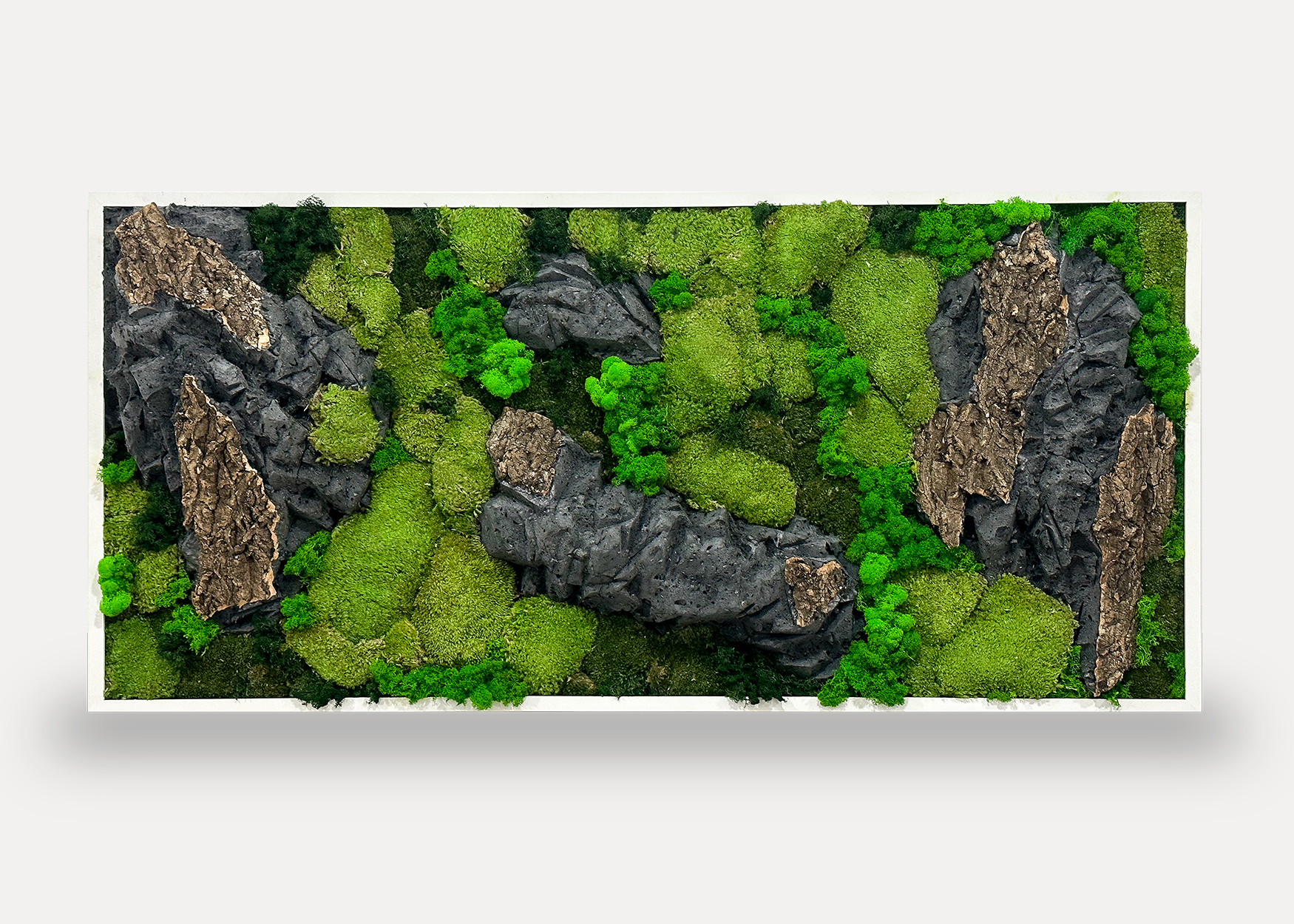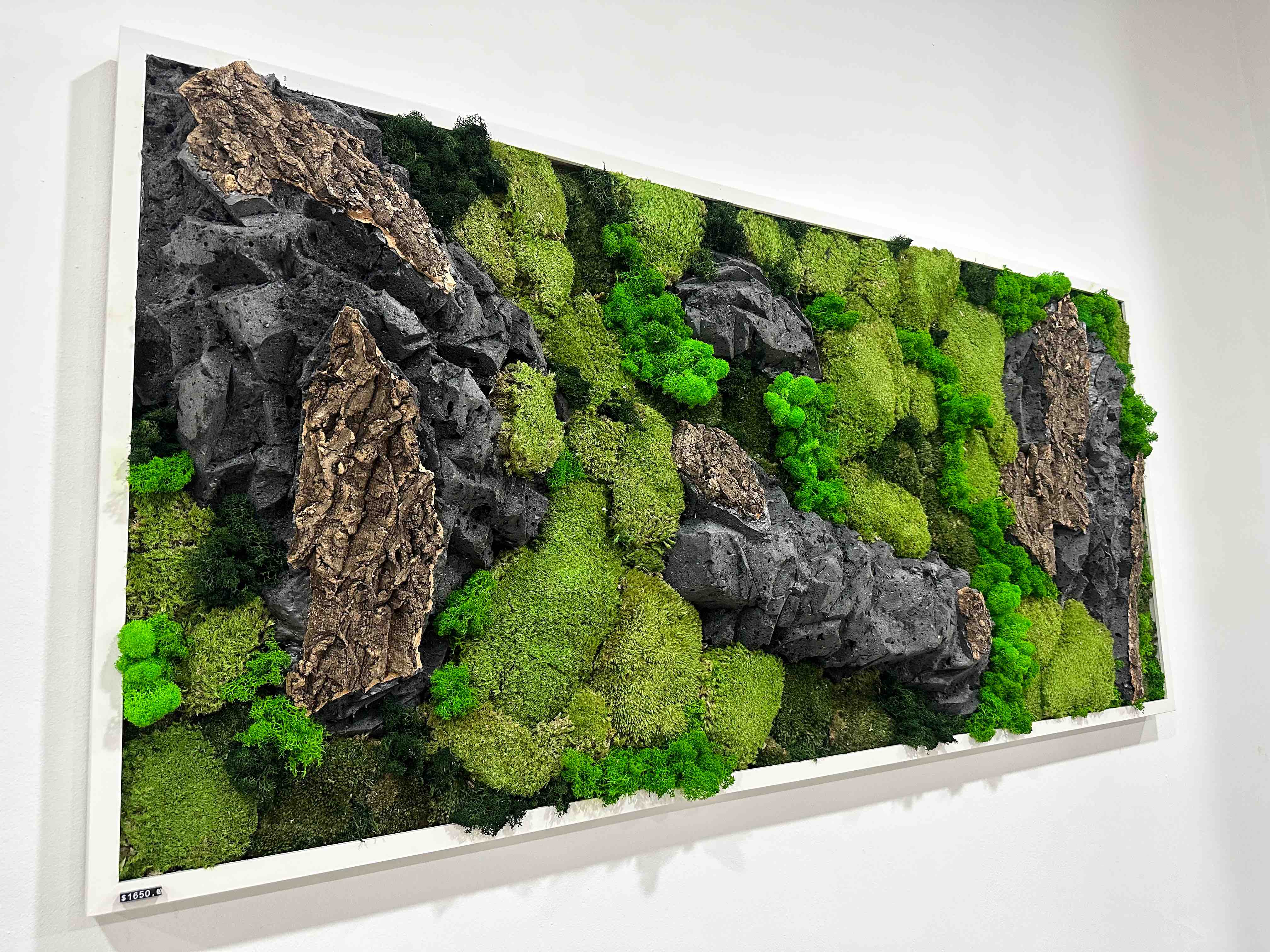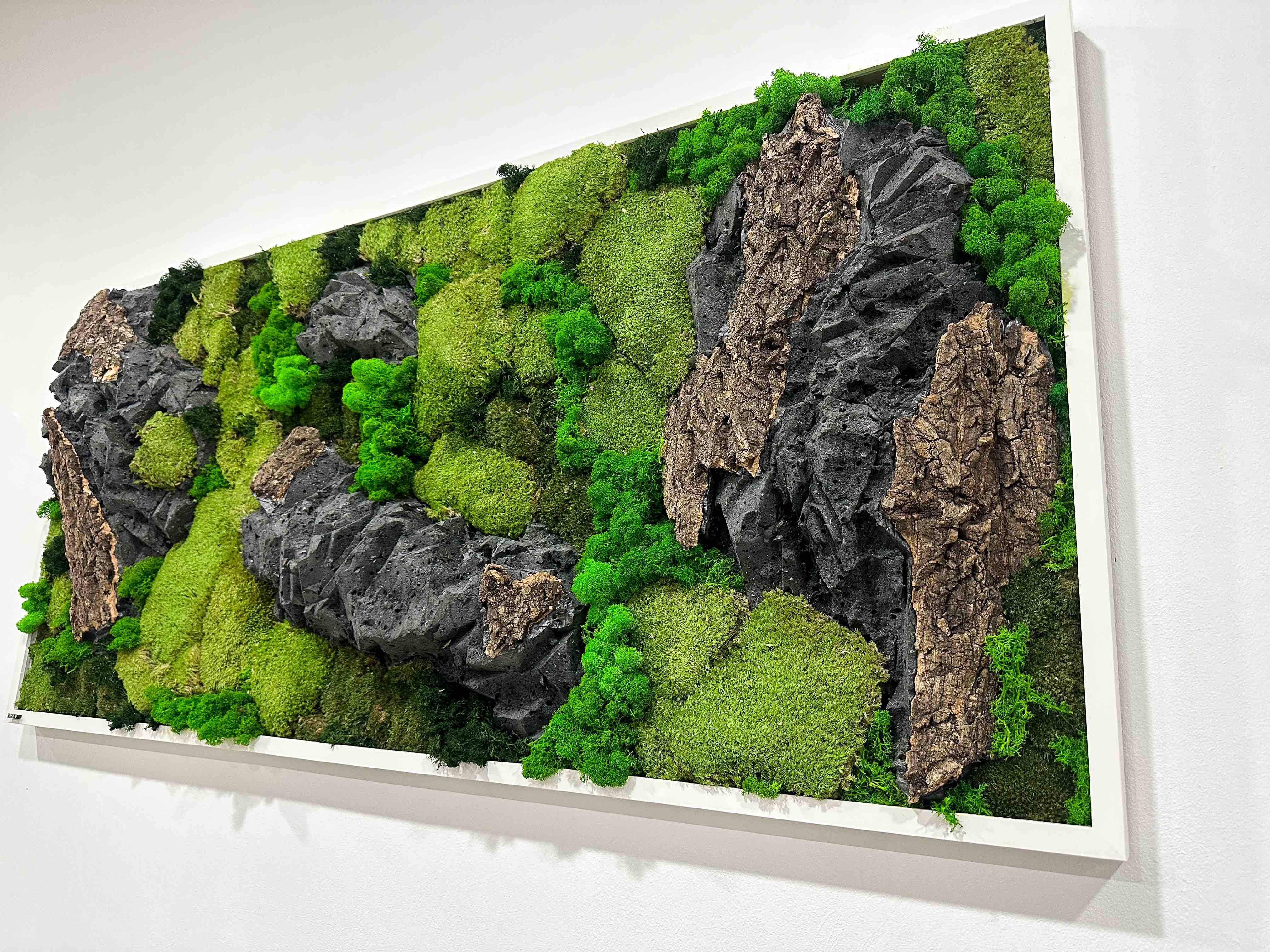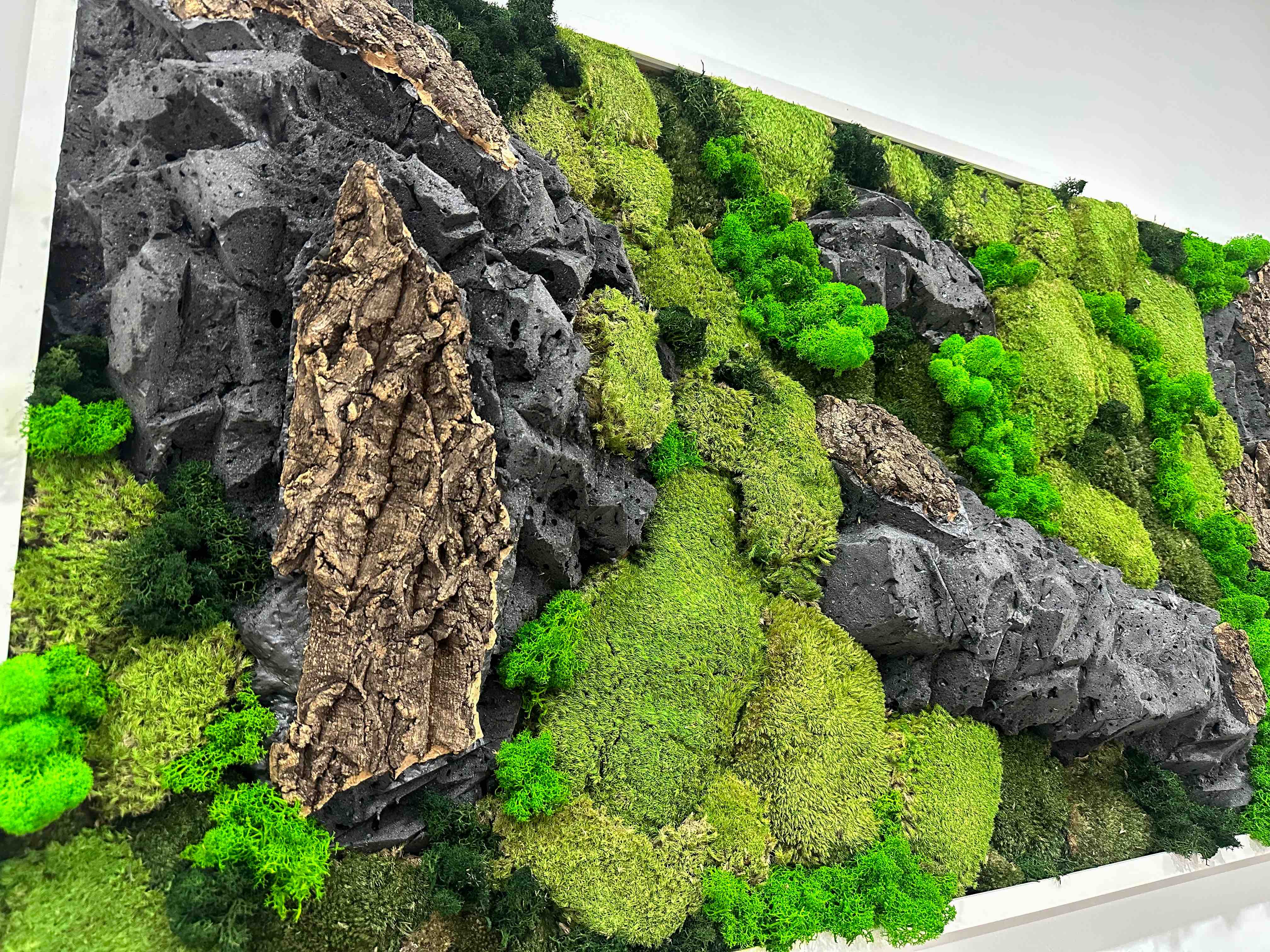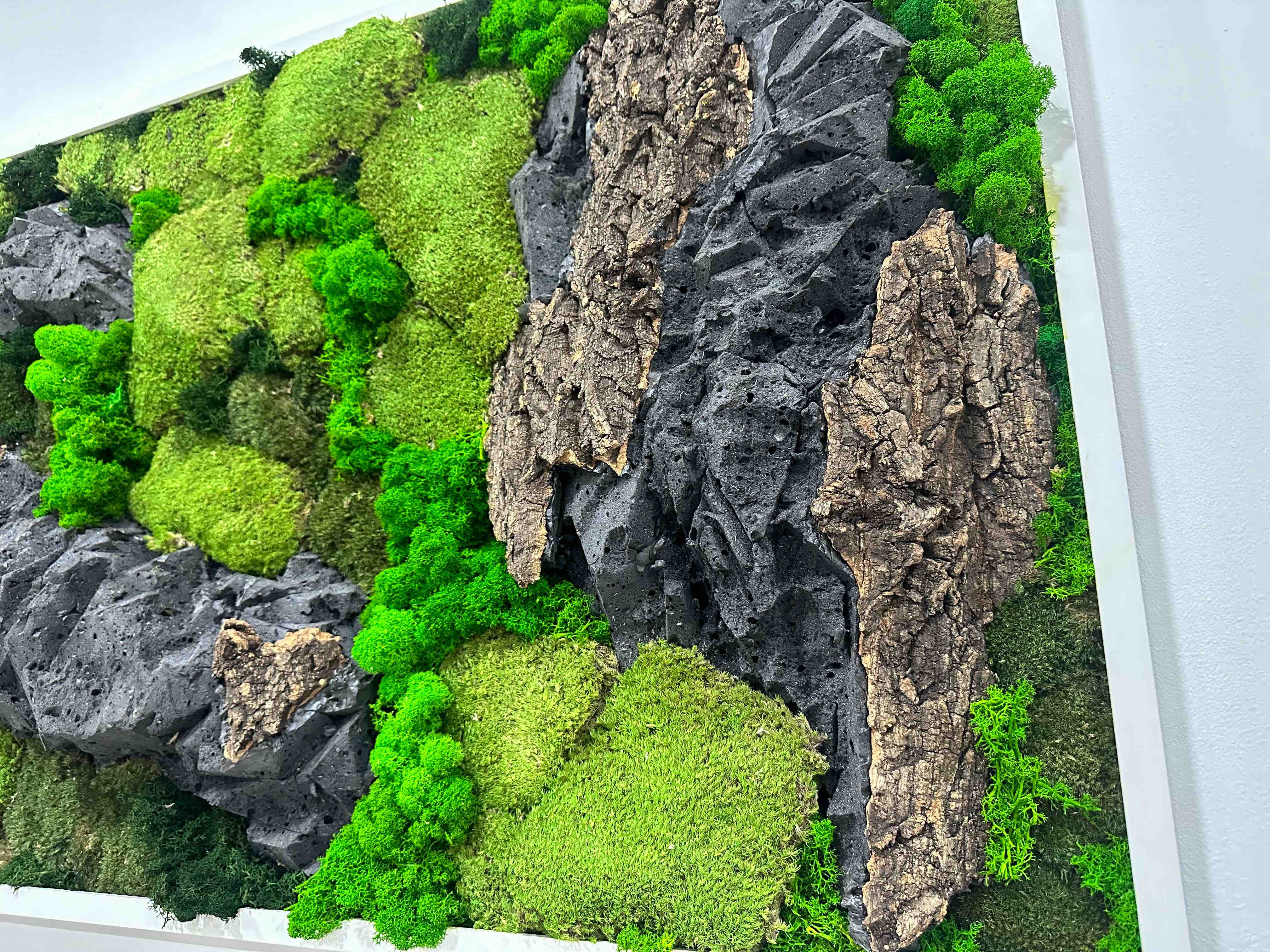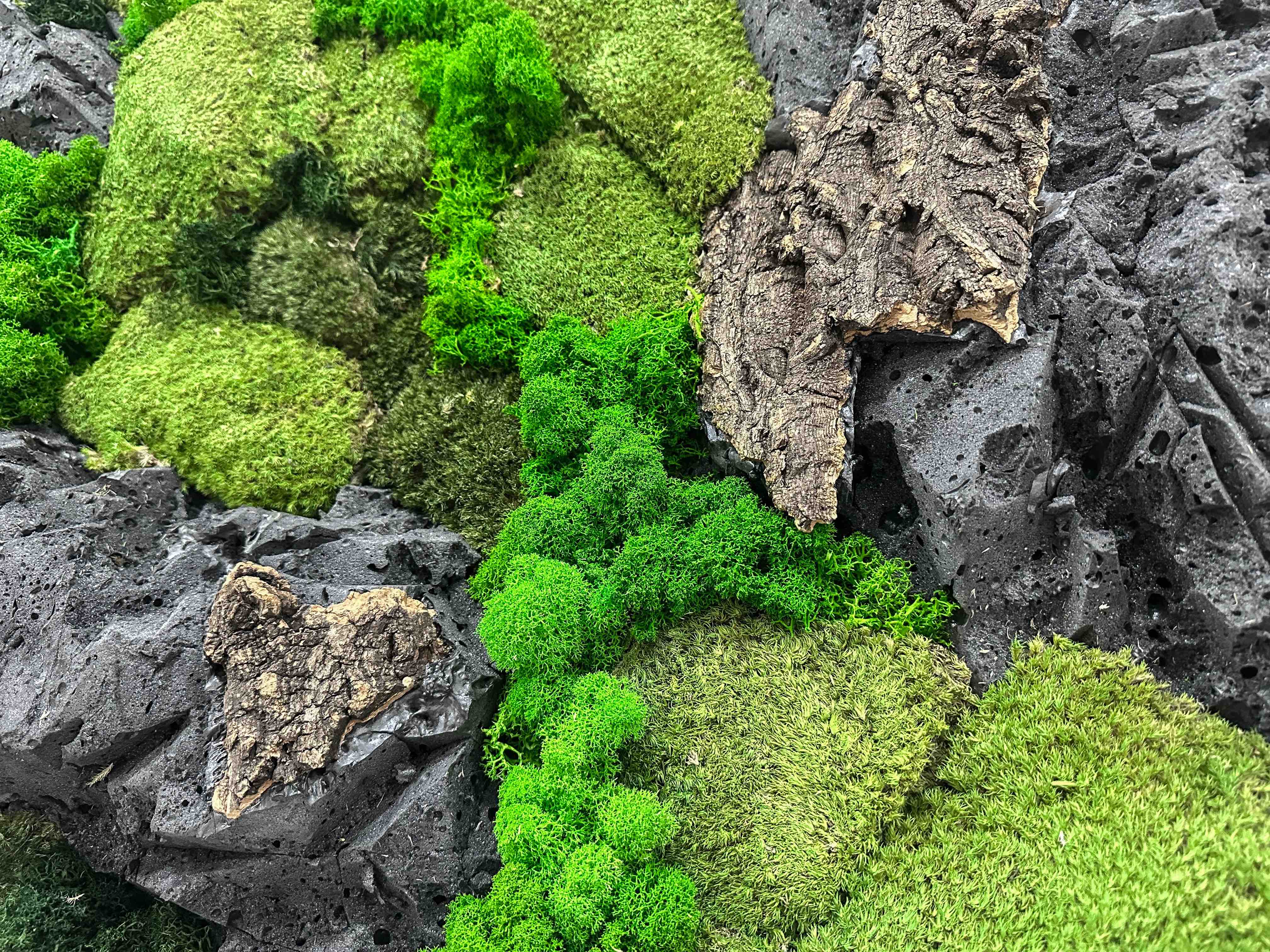 Mossframe - White 01
$1,650.00
An art and plant lover's dream: Mossframes are a form of botanical art that will fit into any space that needs a little bit of lift from nature.

Designed and arranged meticulously by hand, the Mossframe's three-dimensional landscape brings much-needed warmth to your space and adds depth to your walls.
1400mm by 700mm

Pole & Reindeers Mosses

Hand-designed mountain terrain

100% naturally preserved

No maintenance required
Mossframe - White 01
An art and plant lover's dream: Mossframes are a form of botanical art that will fit into any space that needs a little bit of lift from nature. Designed and arranged meticulously by hand, the Mossframe's three-dimensional landscape brings much-needed warmth to your space and adds depth to your walls.
In collaboration
InOut Atelier
"We understand that everyone loves and enjoy having a little green in their space. But not everyone knows how to care for them."

InOut Atelier strives to bridge the gap, by diffusing indoor and outdoor spaces through botanical interventions that require little to no maintenance - corners that are sometimes a little too dark and those who have a lack of green figure.

InOut Atelier is bringing nature back into the comfort of indoor spaces through the introduction of well-crafted terrariums and preserved moss wall design: integrating greenery to create a tranquil, calm, and relaxing environment, to welcome and serve as a cohesive design language between the hard and the soft.
Specifications
Let customers speak for us
Decent Electric Standing Table
I recently purchased this brand standing table and I am extremely pleased with my purchase. It has truly transformed my study/work experience and I highly recommend it to others.
Sturdy and durable:
It impressed me with its exceptional build quality and the materials used are top-notch! I have been using it daily for several months now , and it still looks and functions as good as new.
Ergonomic Design:
The design is simply outstanding. The adjustable height feature allows me to find the perfect level for my comfort, reducing strain on my back and neck. Also l, the spacious provides ample floor for my laptop and other essentials, keeping everything within easy reach!
Smooth Height Adjustment:
What I love about this table is the smooth height adjustment mechanism! Whether I want to switch between standing or sitting positions or adjust the table to accommodate different tasks, the process is effortless. Also, the table smoothly glides up and down; locking securely into place at the desired height without any wobbling.
Sleek and modern appearance:
And lastly this standing table not only excels in functionality but also adds a touch of elegance to my home. The sleek and modern design that the high quality stone materials blends seamlessly with my existing furniture. It is visually appealing to my home and I have received compliments from my friends and family relatives!
In conclusion, this brand standing table has exceeded my expectations in every way, I would highly recommend this one if the other people in the market for a standing table. It has greatly improved my productivity and overall well-being. A solid 5-star product! >:D
Game-Changer for Productivity: My 5-Star Review for the UNIQ Quartz Standing Desk
I recently purchased the 2 UNIQ Quartz Standing Desk, and it has completely transformed my workspace experience. This innovative piece of furniture deserves nothing less than a 5-star rating.
Overall, the Quartz Computer Adjustable Table has exceeded my expectations in every way. Its ergonomic features, durability, generous space, cable management system, and attractive design make it an exceptional investment. Whether you're a professional, a student, or an avid gamer, this table is a must-have for anyone seeking a versatile and ergonomic workspace. I wholeheartedly recommend it and proudly award it a well-deserved 5-star rating!
Unique PC Table
Was originally sceptical about having a Quartz table but this scepticism went away very quickly when I mounted two 31.5" monitors on the table.
The table is extremely solid and works very well. As the table material is Quartz, it is much thinner than most wood material tables - this is a plus as I like to cross my legs whilst sitting down and the table never hits my knees at my ideal working position.
Overall would recommend it but definitely think where you want to place it in advance before it is built!
Great product, great service
Love the Nevoso White desk that I got, it's clearly great quality materials and I look forward to using it for a long time to come. I was quite overwhelmed with the choices available, so I made not one, but two trips down to the showroom because I couldn't make up my mind. Jordan was very knowledgeable and patient each time, and made the process so easy. Thanks, Jordan!
Great desk
Nice, sleek and easy to use
Standing desk with style
I have been using this table for my livestream gigs and my day to day business activities.
The 2-presets allowed me to stand or sit without affecting my preferred view of my screen.
The best part about this desk is the material. Sleek, elegant, easy to clean, resistant to scratches.
On top of everything, it looks freaking gorgeous just by itself.
Quality desk and workmanship
Out of all the competing brands for standing desk, UNIQ stands out with its quartz table as it is aesthetically pleasing and really tough!
And lets face it, people would generally flock to bigger and well known brands but for those seeking hidden gem that is value for money. This is it.
Awesome multi purpose table
Did research for a table that I can adjust the height for food preparation, dining, working in my small cosy apartment with limited space (length and width) in cream colour to match my interior.
Super love this multiple purpose table… added bonus is the fantastic service, good workmanship and prompt delivery.
Functional & Cool Quartz Work Desk
Good thing must share....UNIQ Work Desk !!!
After much research looking for a suitable table that will suit my needs for work & dining in my studio apartment, I decided on UNIQ and have been very happy with the product.
It's able to customise & accessorise to my needs & preference.
I use it for work at standing or sitting position at comfortable level adjustable to my preference for posture, comfort & improve well being.
It also serves as a dining table which comfortably accommodate up to 6 pax.
As it is mobile with (optional accessory) castors fitted to the table legs. I could choose to work or dine anywhere I want in the house.
Thank you UNIQ team for my wonderful purchase experience. I was served by Jordan & Joan who were very professional, helpful & customer oriented. If not for them, I may not have gotten this beautiful & functional UNIQ quartz table. 👍😀
Looks to be a good investment
Had this for almost a month at the time of writing. Delivery was fast, installation was fuss-free. An immediate plus point is that the quartz tabletop has been scratch resistant thus far. My other standing desk with a wooden tabletop, which is about a month older than this table, already has some scratches on it. Another plus is that the tabletop is quite easy to wipe and maintain. All in all, this seems like a good investment that I can hopefully utilise for years.
My dream come true
Jordan was very helpful with my table design and tried to fulfil my brief as best he could. He responded promptly to queries and in detail. I even chose the exact piece of quartz I wanted from the factory. Time wise, I didn't have to wait too long for the table. All in all, a good experience.
Best quartz standing desk in the market
Was looking at a desk for the "wfh" solutions and with good and positive reviews, I come across the Unix standing desk and immediately arrange a appointment to view the actual piece in the showroom. Amaze by the quality, function and the choices available (especially the size, as newer apartments tend to have lesser spaces) I immediately place the order without further ado.
Installation by the team is fantastic and the table is fixed within a short span of time. It is professionally done and is one of the best table that I have use in the recent years. If you are looking for something that is practically yet add a piece of art into your room, Unix will be the only solution available in the market!
Unique standing desk.
I was looking for a standing desk and did an extensive research. All the ones I saw came with wooden tops and they all look so similar. I was looking for something different, preferably different material cos there is already too much wood elements in my study room. Nothing really stands out until I saw UNIQ online ad. Visited their showroom to check out the desk and different quartz design in person. Customer service was great and Jordan who was assigned to follow up post my visit was very helpful and patient too. The installers were very professional too.
I'm very satisfied with the product overall. Think my cat is happy too (kitty-approved!). 😊
The quartz top is beautiful, looks premium and cool to the touch. Definitely a unique piece among all the standing desk options available in the local market.
Most beautiful and functional table
I did not consider a standing desk before I saw this table on Instagram by Unix. Their quartz table top is too unique in this current market. I bought a 1.6m table with marble-like quartz finish. It is cool to touch at any time and my husband loves this table very much. They even gave me a free long keyboard-mouse pad for free, but I did not want to cover the beautiful marble lines of this table, hence I did not use it.
I can double up this table as a place for hot pot and plug in my hot pot device on the table top power extension. It is super easy to clean as well. The table even came with wheels so that I can move it easily to my dining area alone.
Jordan served me at the warehouse-office and his service was impeccable. I did not know what I want, as I as only attracted by the beauty of this table and made an appt to visit the office. My husband is the one who will use it most of the time. He patiently analysed what my husband might need for this table and reccomended the necessary. For example, he reccomended having the controls of the table at the bottom left side coz we are right handed, there will be less chance of accidentally adjusting the table. My table was customized to put the power extension in the middle-top part of the table. This option was not available online and Jordan made sure that the customization was done right down to every single detail that I require.
The 2 staff who came to installed the table were very friendly and professional and I could see the pride they put in their work. Installation took about 30mins as this is an extremely heavy table, not easy to install.
The only place for improvement is that I hope the wireless charging that comes with the table top plug extension can charge my phone at a faster speed. Right now it is practically quite useless to me.